Coaching
Business, Career, Life, & Parent Coaching –
We offer in-person as well as online coaching for basic life concerns, career, financial, parenting support and business coaching.   Some other concerns that coaching may address are those that do not require mental health counseling.
Some common issues where life coaching has proven helpful:
Career (job search, resumes, career choice)
Finances (budgeting, savings, personal book keeping)
Basic life skills (social skills, life changes, new ventures)
Self Care (nutrition, personal, relational, spiritual)
Business Coaching –
Are you considering starting a new business venture?  Do you want to expand or change the direction of your current business? If so, than business coaching with Total Health Guidance can help.
Our business coach has 2 Master's Degrees and has consulted with many small businesses as well as large corporations through the country and even around the world.  He is a certified Black Belt in Six Sigma as well as a certified LEAN trainer. Here is a brief list of some of the companies that have used our business coach:
Johnson & Johnson
General Electric
Hewitt Associates
JC Penney
Walt Disney World
CRU
Unisys
Northrop Grumman
Consulting and coaching services have also been provided for many local churches and non-profit organizations. Services can include any or all of the following:
Business Plans
Marketing Plans
Change Management
Conflict Resolution
Leadership Development
Process Improvement (Six Sigma, LEAN)
Risk Analysis
No matter what field you're in, the principles of coaching remain the same. A Business Coach like other coaches helps to motivate, provide support and teaches business owners to execute healthy risk for business growth. This often helps propel business beyond the expectations of their competitors. At Total Health Guidance our business coaching focuses on setting and achieving measurable goals for our clients. Through guidance, support, accountability and encouragement together we can achieve the success you seek.
We help owners of small and medium sized businesses with their sales, marketing, management, team building and so much more. Business Coaching at Total Health Guidance in Orlando is thorough, cost effective and has many benefits. Through strategic planning and specific marketing we can show you how to propel your business to the next level. Using assessments and evaluations, we can help you find out the best fit for you and determine the best course of action toward growth. This will give you greater confidence in your day to day business life and more satisfaction in your professional development. Business Coaching can significantly improve business performance and inspire you and your team to continue on a path of growth.
To learn more about our rates and how Business Coaching at THG can benefit you, call us at 321-332-6984.
Career Coaching –
Career counseling at Total Health Guidance in Orlando is quick, inexpensive, and has many benefits. Career counseling can help you determine the best career path for your passion, strengths, personality, education, and experience. Using assessments and evaluations, we can help you find out the best possible job fit for you.
Career counseling will give you greater confidence in your current job as well as bring more satisfaction in your professional life. Career counseling is also a good option for people who have changed careers or have moved into a new position with their current employer and are having a difficult time coping with the change.
Career counseling can significantly improve your performance at work and inspire you to make a career for yourself that uses all of your talent and passion while maintaining your desired balance between work and personal life. To learn more about how career counseling at THG can benefit you, call us at 321-332-6984.

Rates
Fees for counseling sessions are $110 -$125/hour. Some scholarship discounts may be available for low income clients.  Please call our office at 321-332-6984 for additional information.
"I came to THG for career counseling. Through the use of various assessments they helped me to realize what type of job I would be best suited for. They also helped me to prepare my resume and coached me through the interview process. I am now working at my ideal job which I truly love."
N.P. – Orlando
Life Coaching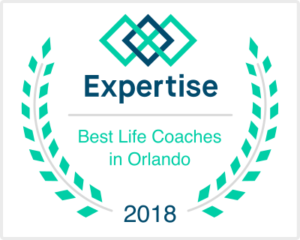 Life Coaching is effective, inexpensive, and has many rewards. Life coaching can focus on one specific issue or a variety of concerns. Common topics include career advancement, relationships, finances, leadership, health, spirituality, parenting, etc.
Coaching starts with an assessment of where you are and the setting of goals for where you want to be. One of our coaches will provide the structure, support, accountability, and encouragement to get you to your next level.
Because our life coaching staff have extensive education and experience in such a variety of life areas, they are some of the most sought after life coaches in Orlando. Our team also provides life coaching over the phone or via the Internet which makes them available to clients world-wide. We were recently awarded one of the "Best Life Coaches in Orlando" by Expertise.com. You can read their review at: www.expertise.com/fl/orlando/life-coaches.
Life Coaching sessions can be scheduled in 30 or 60 minute intervals. If you could benefit from some 3rd party guidance, give us a call today at 321-332-6984. We will be happy to spend a few minutes talking with you over the phone to see if we will be a good fit for you.
I was lost. I didn't know if I was pursuing the right career. I hadn't had any meaningful relationship in several years. I was struggling with my faith and I didn't know where to turn. After getting about 2 months of life coaching at THG, I am in a totally different place. Not that everything is perfect, but I at least have a clear direction for my life. I know where I am headed and I have a plan in place to get there. – R.G.  Orlando
Parent Coaching
When you played sports as a kid, you had a coach.  Before you got your driver's license, you read a book and took a test. However, when it comes to the biggest responsibility of all – having children, most of us did not get any training. Instead, most of us use the same failed techniques which were modeled to us by our own dysfunctional families!
Let's stop that pattern. Schedule an appointment to meet with one of our parenting specialists to get the coaching and support you deserve. While all parents could benefit from a coaching session, it is especially critical for parents of:
– Special needs children
– Oppositional, defiant, or abusive children
– Adopted or foster children
– Siblings who constantly fight
If you find yourself having to yell or threaten before your child obeys than you could benefit from parent coaching. The same applies if you have to provide warnings, get angry, or repeat instructions. We will help you establish a new environment in your home which will lead to honor and respect.
Please call our office at (321) 332-6984 for additional information.